Sautéed Buttery Green Beans are quick and easy to make right on the stove ready in under 10 minutes!
With a good kick of garlic and a hint of lemon juice, you will love this green bean recipe. Buttery Sautéed Green Beans are the PERFECT side dish to accompany anything! Think steak, Roast Chicken, Roast Pork (with crackle), Lamb Chops… the list is endless!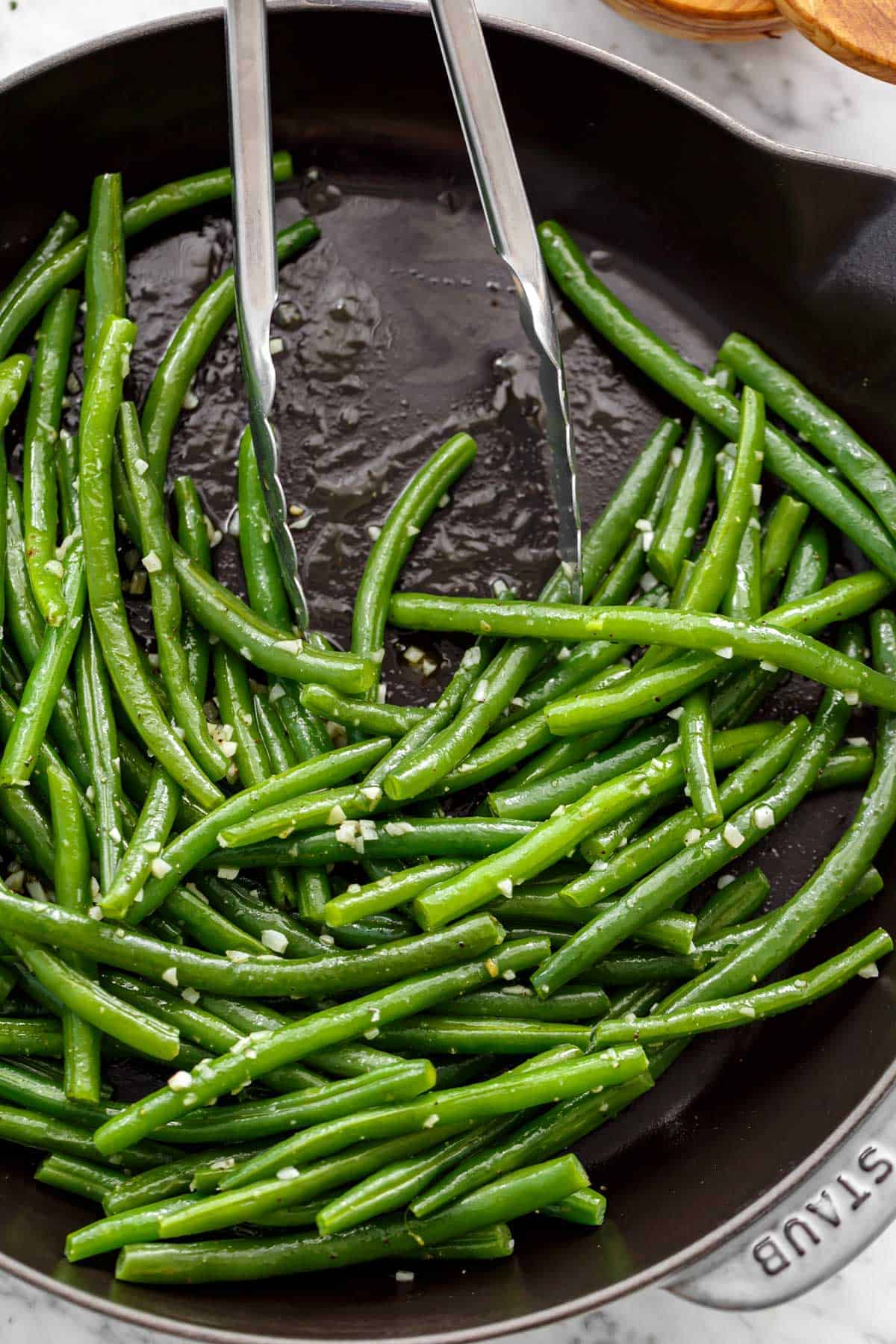 GREEN BEAN RECIPE
Every dinner table needs incredible side dishes… Easy Creamy Mashed Potatoes, Parmesan Roasted Carrots, and Garlic Mushrooms to name a few. This green bean recipe is in the same category of easy and crazy delicious!
Buttery with the perfect balance of garlic butter flavour, you can cook them for as long as you like. Our recipe below makes them a vibrant green with a tender-crisp texture. If you prefer to leave the butter out, that's ok too. They're just as good cooked in olive oil only.
Sautéeing green beans in butter and oil mixture ensures the butter doesn't burn while cooking, giving you a delicious result.
COOKING GREEN BEANS WITHOUT BLANCHING
Of course, you can always throw beans in a pan and cook them from scratch without blanching first. However, we prefer the texture and colour you get from blanching in boiling water.
Use the same pan so you're not piling up your dishes!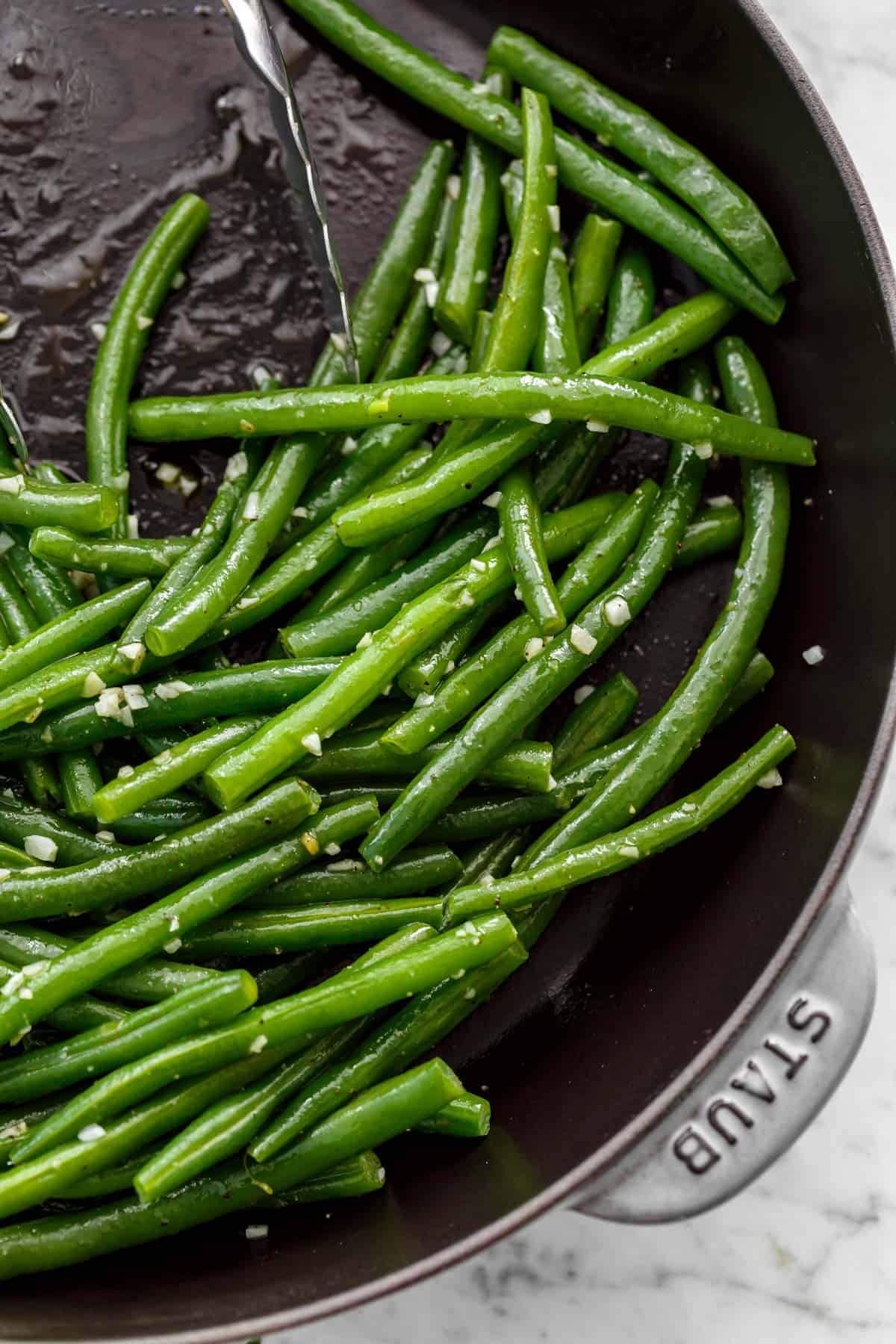 PRE BOILING
YES! You can boil sautéed green beans first for the suggested time of 3 minutes so they don't overcook, throw them in an ice-bath immediately after to stop the cooking process; pat them dry with paper towels and store them in an air5 tight container in your refrigerator for up to 2 days. When you're ready to sauté, pull them out about 15 minutes before just to get the chill out before cooking them in hot oil/butter.
TIPS
Sauté additional veggies in the oil/butter mixture before adding in your green beans, like onions, bell peppers (capsicum), or even mushrooms.
Herbs can also add another level of flavour. Basil parsley, oregano or rosemary.
Trim the ends of your string beans to avoid eating the green fibrous string.
USING FROZEN BEANS
You can use frozen green beans in this recipe. There's no need to blanch them first! Just thaw them out and throw them straight into the pan.
MORE GREEN BEAN RECIPES
Cheesy Roasted Green Beans
Green Beans with Parmesan
Green Bean Casserole
Potato, Egg and Green Bean Salad
Extremely versatile, green beans can be cooked with so many different sauces and flavours, making them one of the easiest green veg to cook with!
SERVING IDEA:
Juicy Prime Rib Roast with Balsamic Roasted Mushrooms.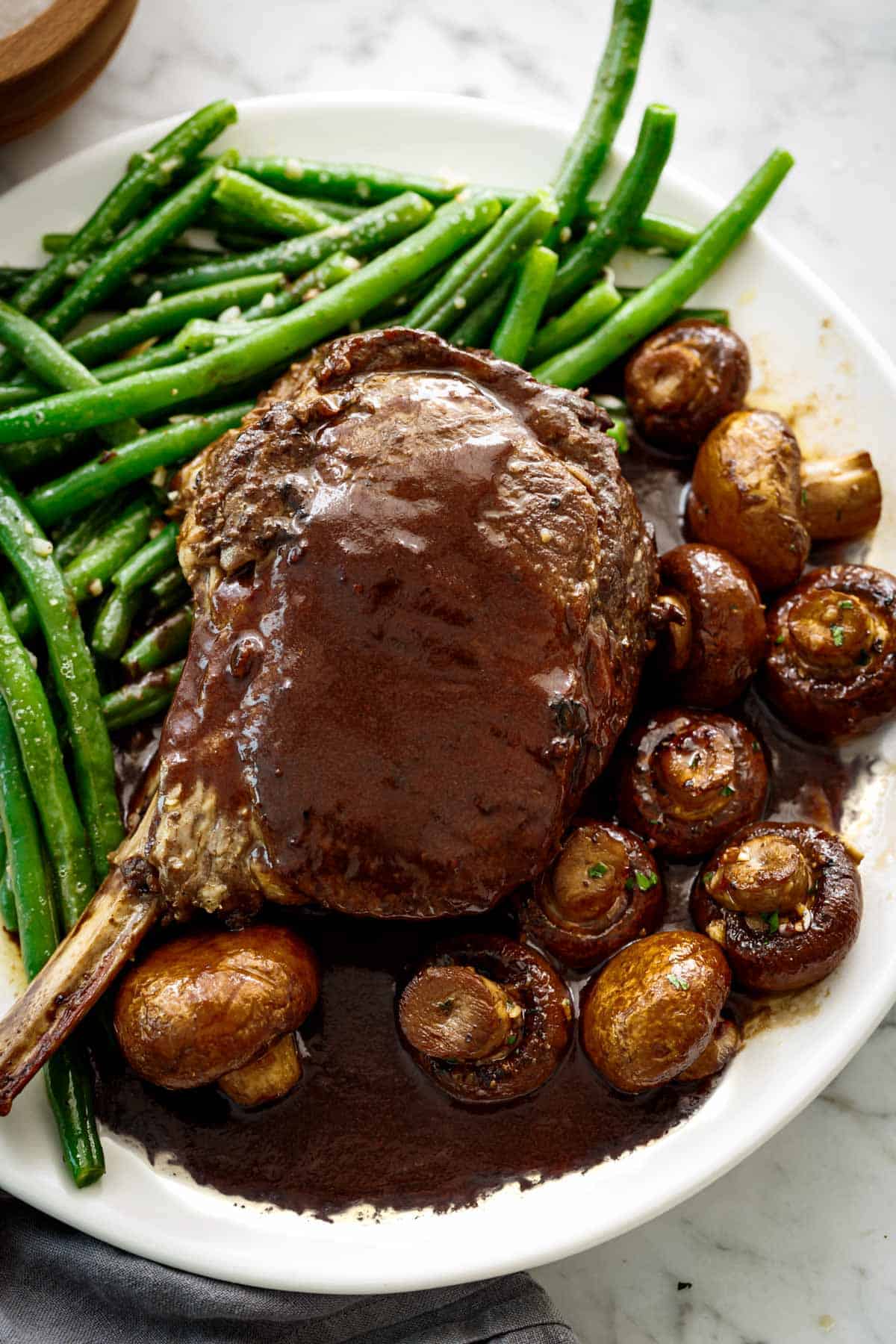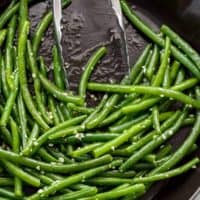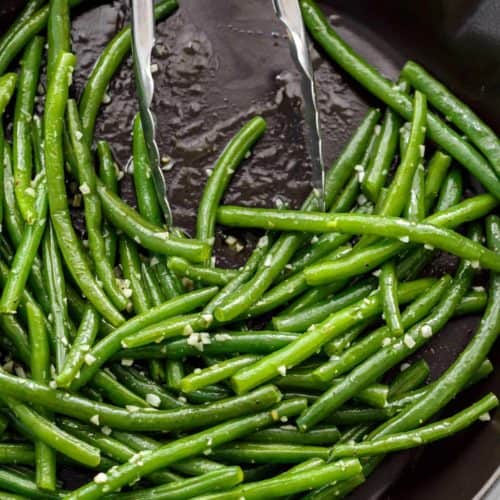 Buttery Sautéed Green Beans with a good kick of garlic and a hint of lemon juice makes this green bean recipe the PERFECT side dish ready in under 10 minutes!
PRINT
SAVE go to your favorites
Serves: 4 serves as a side dish
Ingredients
1/4

cup

water

1

lb

500 g green beans, ends trimmed

Good pinch of coarse salt

1

tablespoon

olive oil

2

tablespoons

unsalted butter

4

garlic cloves,

minced

Cracked black pepper,

to season

1-2

tablespoons

fresh squeezed lemon juice
Instructions
Heat a large sauté pan over medium-high heat.

Combine beans and water together with a good pinch of salt (about 3/4 teaspoon). Bring to a boil and cook for 3 minutes.

Drain beans and set aside.

Heat oil and butter together in the same pan. When butter has melted, sauté the green beans, moving them around in the pan to coat in the oil/butter mixture (about 1 minute). Add the garlic, another pinch of salt, and pepper and sauté until garlic is fragrant (30 seconds).

Immediately take off the heat, squeeze over lemon juice through, mix through and serve.
Nutrition
Calories: 122kcal | Carbohydrates: 9g | Protein: 2g | Fat: 9g | Saturated Fat: 4g | Cholesterol: 13mg | Fiber: 3g | Sugar: 4g